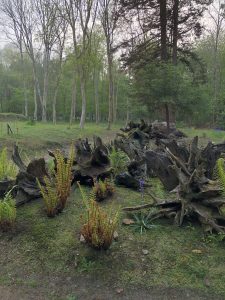 Although a Stumpery was a popular feature in Victorian gardens, the Stumpery at Enys was only added in 2015 but has already become the largest Stumpery in Cornwall.  The Stumpery has been a project of passion for our head gardener Danni, who likes the architectural challenge and loves "the form of the roots, and the atmosphere created by the combination of the stone wall archway and the Stumpery, blending with shape and texture of the ferns in the foreground".
The Stumpery emphasizes the beauty of Nature and adds to the already wild and mysterious feel of the Gardens.
The archway framing the Colonel's Garden and Flower Garden in the background makes the Stumpery a popular photo feature for visitors and for couples taking their wedding photos at Enys.