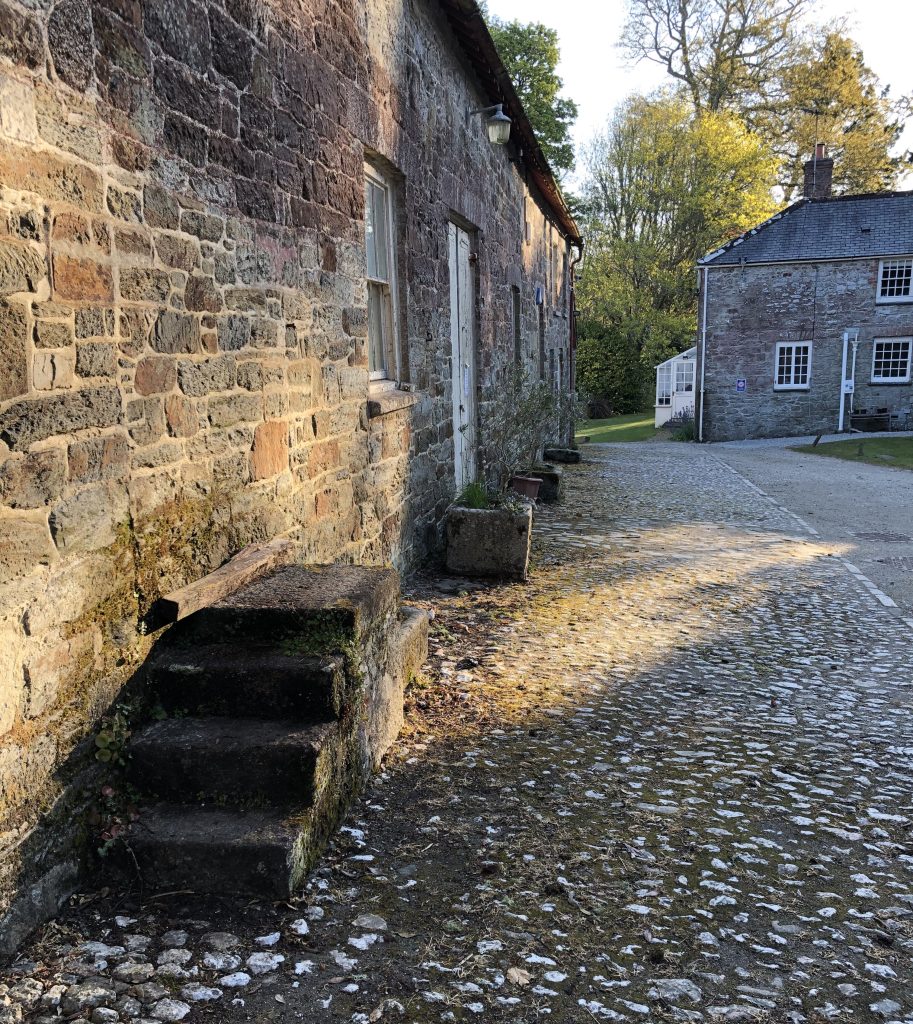 The buildings at Enys have changed little over time, and bear witness to the history of the place. The centrepiece is of course the Mansion House, a large house built in the 1830s to replace a fairly modest E-shaped Elizabethan manor house which burned down in the late 1820s. The granite used in its construction was quarried nearby on the Estate. Though the Mansion House is only open occasionally for events, a visitor can see much from the outside. As you walk round the outside, look for the dummy windows which were inserted to maintain a regular external appearance.
The main part of the Mansion House is over two levels featuring a hall with an impressive curved staircase under an overhead lantern that allows natural light to fill the large open hall.  In addition to the hall, the ground floor also features three large tall reception rooms (dining room, library and drawing room), and a smaller writing room. On the second floor there were six bedrooms of varying sizes and two bathrooms.
The Servants' Quarters, built over three floors, contain the majority of the 34 rooms of the house. Most of the rooms are generous by the standards of the day, and the walls of the butler's room were covered in oak panelling. The original kitchen area is at the furthest point away from the dining room, though there is evidence to suggest that a kitchen was put in closer to the dining room at a later date.
The grand portico at the main entrance gives onto a wide carriage sweep, where visitors' carriages would have turned before driving back up the main entrance track. Or perhaps the carriages would have been led round the back of the house to the cobbled yard which served the stables and coach house. An unusual feature is the clock tower, believed to be unique on Cornish estates. Strolling through the yard, you can observe the mounting block next to the stables, and notice how openings in the wall were blocked up or inserted over the years.
At the bottom of the yard, there are two small cottages and an enclosed garden space tucked away behind the Mansion House. Here you will find the Cafe, which serves teas, snacks and light refreshments.