Christmas 2023 at Enys House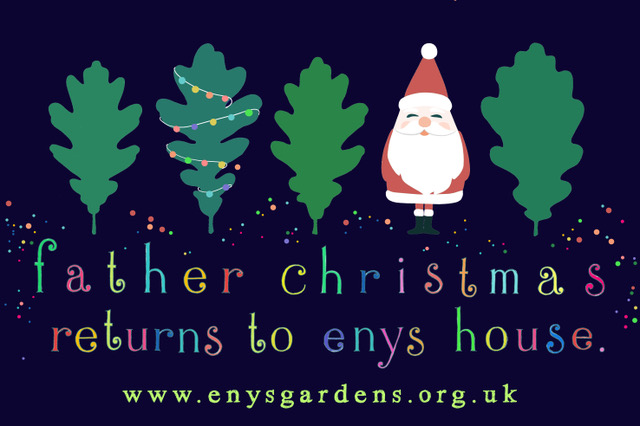 Enys House welcomes you and your family to meet Father Christmas and his enchanted woodland helpers for a magical festive experience.
Enys House is transformed into a magical enchanted woodland wonderland filled with festive cheers, family activities and a very special storytelling with Father Christmas himself. A traditional heartfelt Christmas experience for all to enjoy!
We have timed entry slots, one for each half hour from first entry at 10:00 to last entry at 14:00, Saturday 16th December to Saturday 23rd December inclusive.
Get your tickets HERE!
The venue is situated within a rural setting of a country estate, the House itself is seasonally cool and the walk from the car park can be muddy.
The Christmas experience will last 45 mins -please make sure you arrive on time for your timed entry slot. We will do our very best to accommodate latecomers but entry cannot be guaranteed. All Children MUST be accompanied by a parent/ guardian.
This is a shared experience - meaning you will be sharing your time in the grotto with other families. If your family requires a quieter experience - we will be offering sensory sessions dates and times TBD. If you would like to secure your spot today, please book your ticket and once the Sensory times have been released please email events@lovebitecreative.co.uk  with your preferred Sensory session time slot along with your name and order number and your ticket will be transferred for you. OR simply wait for the dates TBA and book your ticket then.
The car park at Enys is limited for space - please car share where possible.
What to expect for 2023 Grotto:
Brand new Magical Christmas Story with Father Christmas -

A wonderful magical heartwarming story for the whole family.

Beautiful keepsake memento to treasure at home.

Crafts and family activities.

Beautiful photo opportunities and magic moments to treasure.
Testimonials from last year's woodland helpers:
"We loved it! The most authentic Father Christmas I have ever seen!" 
"Our grand- daughter was enthralled"  

"What an absolutely amazing Christmas Experience, every bit of it was perfect!"

 
The Ticket is entry to the Christmas grotto only which is held inside Enys House. The main Gardens are normally closed during December, however during the Grotto if you wish to enjoy the outdoors after your experience you are welcome to walk the main paths if you wish. Please Note: Some areas of the gardens will be closed due to steep terrain and slippery conditions during winter. Please stick to the paths and do not enter the areas of the gardens that are closed.
Affordability Discount - If you would like to experience this year's magic but the price is just out of reach , please email events@lovebitecreative.co.uk  and we will send you a discount code.